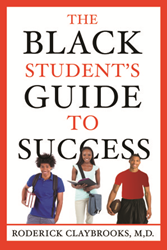 DETROIT, MI (PRWEB) February 05, 2015
42-year-old spine surgeon, Dr. Roderick Claybrooks M.D., has authored the first of a series of books entitled, The Black Students Guide To Success, to encourage black students to expand their career choices beyond sports and entertainment and to aid them in finding funds for school while offering a blueprint to navigate through life: http://www.blackstudentsguide.com
A motivational title, with 23 informative chapters, covering a wide array of topics, the book series was birthed after Dr. Claybrooks met so many patients in the emergency rooms of Detroit that were living beneath their potential and not maximizing their gifts. The goal is to decrease the high school dropout rate and increase enrollment among financially challenged students and college bound prospects.
I meet too many young kids who dont realize that they have options, says Claybrooks. I want kids to have faith in education.
Claybrooks, one of the youngest board-certified Metro-Detroit spine surgeons among the elite African-American surgeons in the United States who specializes in complex spine surgeries, states, If I had my way, academic superstars would be as popular as American Idol and as publicized as the Super Bowl. He adds, It pains me that many youth, especially African-American boys and girls, see entertainment or athletics as the only ticket to success.
You have a much better chance of becoming a brain surgeon than of becoming the next Lebron James, states Claybrooks, to which he often gets a puzzled look but doesnt back down. He backs it up with statistics.
An example of some of the issues discussed in his book include the following:


Why African Americans Trail Other Groups in this Country Socially, Academically and Economically
How to Find a Mentor and Foster Relationships that will Contribute to Your Success
Why it Does Matter How You Look and What You Wear
How to Choose A Career
How to Build Wealth
Acting White
An education, a good education, is the surest ticket out of the ghetto, Claybrooks emphatically states. He knows because education opened doors to opportunities he would have had no other way of taking advantage.
Other books in the series include, "The Black Parent's Guide To Financial Success," "The Black Student's Guide To Financial Success" and "The Black Student's Guide To Success" workbook.
For more information please visit http://www.blackstudentsguide.com.