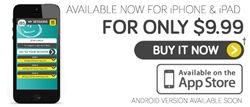 London, UK (PRWEB) March 27, 2015
The Thomas Scattergood Behavioral Health Foundation is a Quaker-based, philanthropic, grant-making foundation committed to raising its voice to improve the system through which behavioral healthcare is delivered.
The Scattergood Foundation and The Kennedy Forum are recognizing innovations that advance Behavioral Health Policy and Practice through the Annual Scattergood Foundation Innovation Award.
The SoundsLikeIBS Program App is designed to guide the IBS sufferer through 5 therapy sessions that ultimately result in the patient's ability to manage and control IBS symptoms so that the user can lead a normal life again. The program comprises 3 steps (a clear introduction, 5 therapeutic sessions, plus an additional bonus track explaining IBS for family members) that have been developed over a period of years based on the successful treatment of clinical patients.
App benefits include: education, prompt treatment; real-time progress monitoring; high patient compliance; unique IBS Index, potential for reduction or elimination of prescription medications and supplemental cost/claims, decreased patient office visits, and fewer diagnostic tests.
SoundsLikeIBS delivers a 20-year proven protocol, used by hundreds of thousands IBS patients worldwide with an average 90% success rate.
A model for value-based purchasing, the related Pro App enables healthcare providers, and those managing rising risk populations to monitor the progress of each patient (with permission) and have access to all patients data within the IBS population.
The App and protocol are a researcher's Go To Tool providing data that can be viewed in real time or in standard formats.
Proponents of translational medicine will recognize the benefits brought by the SoundsLikeIBS App and Pro App, bringing proven methodologies within new technology, increasing swiftness of treatment delivery to patients, and the benefits of unique data analysis tools to research and medical professionals.
Finalists for the Scattergood Innovation Award will be announced sometime around March 27, 2015. Voting will begin and continue until April 15 2015 at 11:59 PM EST. Click here to visit SoundsLikeIBS on Scattergood Foundation Innovation Award page.