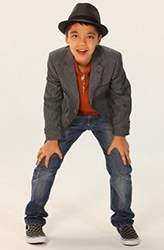 Baltimore, MD (PRWEB) July 25, 2013
The Gordon Center for the Performing Arts premiers its season with Ethan Bortnick, a child prodigy and piano virtuoso, who rivals any star born from Americas Got Talent or American Idol. Having started playing on a toy piano when he was three, Ethan Bortnick is now 13, a piano prodigy, and holds the Guinness World Record for being the youngest musician to host a solo concert tour. Not only is he a young recording artist, but also a young philanthropist who raises money for numerous causes. In fact, Bortnick joined notable icons Celine Dion, Black Eyed Peas, Justin Bieber, and Elton John as the youngest in a lineup that recorded We Are The World 25 for Haiti. While he may be young, Bortnick is a stellar performer who will astound any audience with his virtuosity.
When he first started picking out melodies on his toy piano, he began begging his parents for formal lessons on a real piano and readily picked up composers such as Beethoven, Mozart, jazz pianist Bill Evans, Little Richard, and Elton John. By age five, he began writing his own songs and by nine appeared on Oprah, where he was named one of Oprahs All Time Smartest, Most Talented Kids.
From there, Bortnick began his trek toward super stardom, having been featured on national late night and morning television shows, including multiple appearances on The Tonight Show with Jay Leno. In 2010, Bortnick released his debut CD and DVD, Ethan Bortnick & His Musical Time Machine (Razor & Tie), a collection of covers of well-known pop songs and impressive original compositions and since then has toured the world, connecting with diverse audiences in countries such as South Africa, Brazil, and Australia.
Bortnicks musical repertoire evokes a diverse sensibility and a plethora of tastes not usually present in a twelve-year-old. Onstage, he performs jazz, classical, rock n roll, and his own memorable originals. He has the musical equivalent of a photographic memory and is able to instantaneously pull up songs to dazzle an audience, dependent upon its particular tastes. Sets can range from Beethoven, to the Beatles, to Justin Bieber.
Ethan completed shooting a full-length feature film called Anything Is Possible which will be released in September, 2013. He co-wrote all of the songs in the film and scored all the background music; a soundtrack will be released simultaneously with the film. Ethan will star as Nathan, the main character, and the touching tale will reflect Ethans sense of optimism and his commitment to bring warmth and happiness to kids and families worldwide. Its a fitting storyline for a boy who is on an epic music-career journey, but remains pure and humble when sharing his talents.
Bortnick has raised more than $ 30 million for different charities, including Children's Miracle Network Hospitals, which stems from his reaction at five years old to his younger brother having three heart surgeries, while young.
Bortnick is the son of Ukranian immigrants and remains humble about his achievements. His performance is the opening of a Russian Festival that is being hosted by the Associated, the Jewish Federation of Baltimore at http://www.associated.org.
The Gordon Center can be viewed at http://www.gordoncenter.com.