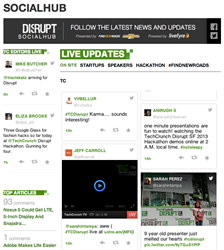 San Francisco (PRWEB) September 09, 2013
Livefyre, provider of the leading real-time conversation and social curation platform, announced today that it is powering a unique Social Native Advertising offering for Chevy at this weeks TechCrunch Disrupt Conference. Chevy is sponsoring the official Disrupt Social Hub which captures the news, images and conversation straight from Disrupt and as well as the social buzz and editorial content following the conference.
The Disrupt Social Hub provides a central place for Disrupt attendees and those interested in conference to follow the Tweets, Facebook posts and Instagrams from the event in real-time, while also featuring relevant editorial and social content from Chevy.
Jessica Brunner, Sales Development Manager for AOL/TechCrunch explained, AOL is thrilled to once again utilize Livefyres Social Native Advertising offering, this time for TechCrunch Disrupt. The Chevy Disrupt Social Hub is a unique way for us to enable our lead sponsor to engage in social conversation with the investors, entrepreneurs and journalists following the announcements, news and trends coming out of this years Disrupt Conference.
Breaking news from TechCrunch editors who are covering the event as well as tweets, vines and Instagram images from both editors and attendees will also be prominently featured to surface the best content from the event. The Hub will also feature which Disrupt articles are trending across TechCrunch, relevant technology articles by the Chevy team and original posts from Chevy fans as part of its Find New Roads campaign.
Jordan Kretchmer, Livefyre Founder and CEO added, Right now brands have few options when it comes to social native advertising. Livefyre is enabling Chevy to integrate their paid, owned and earned media in a relevant, authentic way that provides value for the TechCrunch Disrupt audience. In the short three weeks since launching our Social Native Ad Solutions, we have received overwhelming interest from both brands and publishers.

The Chevy Disrupt Social Hub is featured prominently at this weeks TechCrunch Disrupt Event and can be found online at: http://techcrunch.com/events/disrupt-sf-2013/socialhub/.
About Livefyre
Livefyre helps companies engage consumers through a combination of real-time conversation, social curation and social advertising. With Livefyre, brands can integrate real-time social content into their websites, mobile apps, advertisements and television broadcasts to increase viewer engagement, boost website traffic and drive revenue. As the fifth largest network online, Livefyre is powering real-time social experiences for over 400 leading brands including American Idol, AOL, Bravo, CBS, Conde Nast, Dow Jones/WSJ, FOX Sports, Mashable, NASCAR, Showtime, Sony Playstation, Sports Illustrated, The New York Times and Universal Music Group.
Founded in 2009 with offices in San Francisco and New York, Livefyre was named one of the best places to work in the Bay Area by the San Francisco Business Times. For more information, visit http://www.livefyre.com or follow us Twitter and Instagram at @livefyre.