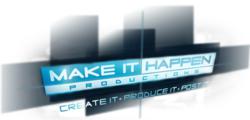 Los Angeles, CA (PRWEB) May 28, 2013
Los Angeles based 360 Agency recently selected Make It Happen Productions Billy Frank to write, produce, creative direct and post produce a public service announcement starring American Idol star Adam Lambert for The Trevor Project.
The Trevor Project was inspired by the 1994 Academy Award-winning short film Trevor that tells the story of a gay boy who attempts to take his own life when he is shunned by his friends on the basis of his sexuality. The project itself was founded in 1998 and is now a leading national organization when it comes to preventing suicide by LGBTQ youth.
Lambert joined forces with AT&T and The Trevor Project to reach lesbian, gay, bisexual, transgendered and questioning youth nationwide and encourage them to share their proud moments for a chance to win a private Adam Lambert concert.
According to Lambert, Too many Lesbian gay, bisexual, transgender and questioning youth dont believe that they have a voice. But I want to show them that they do and encourage them to live free and live proud.
Make It Happen Productions jumped at the opportunity to participate in a campaign with such an important task. When asked about his participation in the project, Billy said, "When I first heard, from the 360 Agency, that AT&T and the Trevor Project were teaming up, I knew I wanted to be involved in the production. I support what 360 came up with conceptually and very much enjoyed directing this PSA. I am proud to have been involved in such a worthwhile cause."
In response to the final cut of the PSA, 360's Leticia Galindo said, "We are super excited to share (the PSA) with the client!" Her partner, Jennifer Ludden, said "You knocked it out!"
To share a proud moment, visit https://apps.facebook.com/attlgbtq/ before June 30, 2013.
About Make It Happen Productions
Make It Happen Productions (MIHP) is a fully integrated, multi-award winning production company servicing all major markets nation-wide and specializing in high-concept video and film projects be they integrated marketing campaigns, traditional commercials, or non-scripted television.
With over two decades of experience and multiple nominations and awards in film and television production, MIHP and Executive Producer Billy Frank take pride in creating high-end productions with the utmost quality from concept through post-production while saving money on production cost and without compromising creativity. For more information, visit mihp.tv